A great facial can help everyone look and feel more beautiful, which is why Thaker Cosmetic and Wellness is pleased to offer Las Vegas, NV men and women the innovative Hydro Facial made in the USA by BioXFusion MD at Imagederm. Image derm has one of the few if not only FDA approved microdermabrasion for best results and safety. This is a unique system that assists in providing medical-grade facials that improve the tone and health of your skin by customizing your treatment. Whether you are concerned about signs of aging, clogged pores, rough skin texture, or dry spots, Dr. Reuben Thaker and his experienced team at Thaker Cosmetic and Wellness will create a unique Hydro Facial treatment based on your skin type that addresses your needs and concerns. Schedule an appointment to get more information about the Hydro Facial system and other treatments to keep you looking healthy and young.
Reviews
"I absolutely love this place! Rita is the sweetest person there who care for you you. So far I've gotten the laser hair removal and a microdermabrasion and my results are amazing! I can't wait to go back and finish my hair removal and start my hydro fascial process."
- H.D. /
Google /
Jul 13, 2019
"Excellent place , great customer service makes you feel comfortable. Unbeatable prices with results you can see right away. Def. Recommend this place if you want to see changes and feel better and more confident about yourself???. This is the place!!"
- J.I. /
Facebook /
Jul 12, 2019
"I went in for a hydro facial which was the first for me. I scheduled my appointment with Rita. The facility was very inviting and the room was very tranquil. When I laid down on the bed, I noticed it was nice and warm and extremely comfortable. Rita was very accommodating and explained everything that was going on during the facial. This facial was so relaxing and made me feel and look like I was glowing. Can't wait to try this again very soon. Rita even followed up with me the next day to see how my skin was feeling! Great service and even greater customer service!!!"
- V.L. /
Yelp /
Jun 29, 2019
"Amazing facility! The equipment is all up to date and very clean. I had laser hair removal, microdermabrasion and hydration facial (done by Rita) all with noticeable changes before I walked out of the door. Can't recommend this place enough."
- A.D. /
Google /
Jun 07, 2019
"I've been here a handful of times now, and always come out feeling better than when I came in. Dr. Thaker is kind and straightforward, and will work with you to make sure you get the treatment that works for you & your body. If something is not right for you, he won't do it, and I appreciate that honesty; especially in an industry where you may be able to find a doctor who will give you what you want, as long as you're willing to shell out - even if your body won't respond well to it or if could be hazardous to your health. I've come in and had microdermabrasion and hydrofacials done by Rita C., who is a wonderful medical esthetician with a great bedside manner. She always puts me at ease, and the treatments are relaxing and relatively painless - everyone's pain levels are different! But Rita has a gentle touch & I can practically nap while I'm getting it done. The hydrofacials have done wonders for my complexion, and have minimized the areas where I have hyperpigmentation and adult acne. The spa itself is sparkling clean, with all the latest equipment. Their prices are reasonable and they're quick to respond if you have any questions leading up to your appointment. Definitely give them a try if you're looking to treat yourself."
- T.N. /
Google /
Apr 16, 2019
Previous
Next
The Hydro Facial system is a term meaning water pressure used for facial cosmetic treatment, and is designed to be effective for women and men of all ages and skin types. The process will be customized to fit your specific goals. Skin concerns that may be treated by a Hydro Facial include:
Brown or sun spots
Chronic or infrequent outbreaks of acne
Decreased skin elasticity or firmness
Fine lines and wrinkles
Large or congested pores
Oily skin
Rough skin texture
Uneven or dull skin tone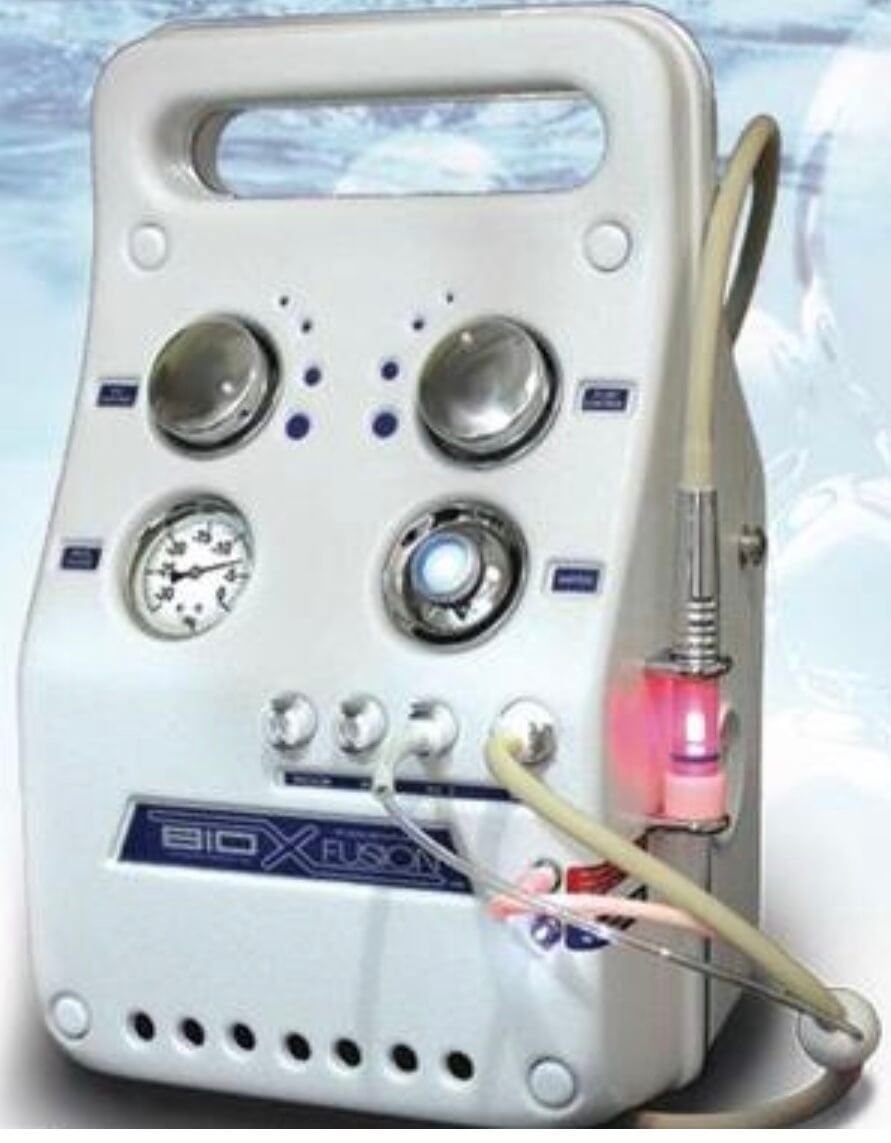 The new BioXfusion MD combines the benefits of medical grade hydrating-infusion with dual LED light therapy. This is the latest advancement in effective liquid based exfoliating/infusion technology. Red Light: stimulates and repairs elastin fibers and collagen production. Blue Light: kills bacteria which is responsible for causing ACNE and inflammation.

The benefits of a BioXfusion MD Hydro-Facial
Exfoliates
Cleanses
Stimulates collagen production
Infuses bio essential serums into the skin
Uses Red/Blue light therapy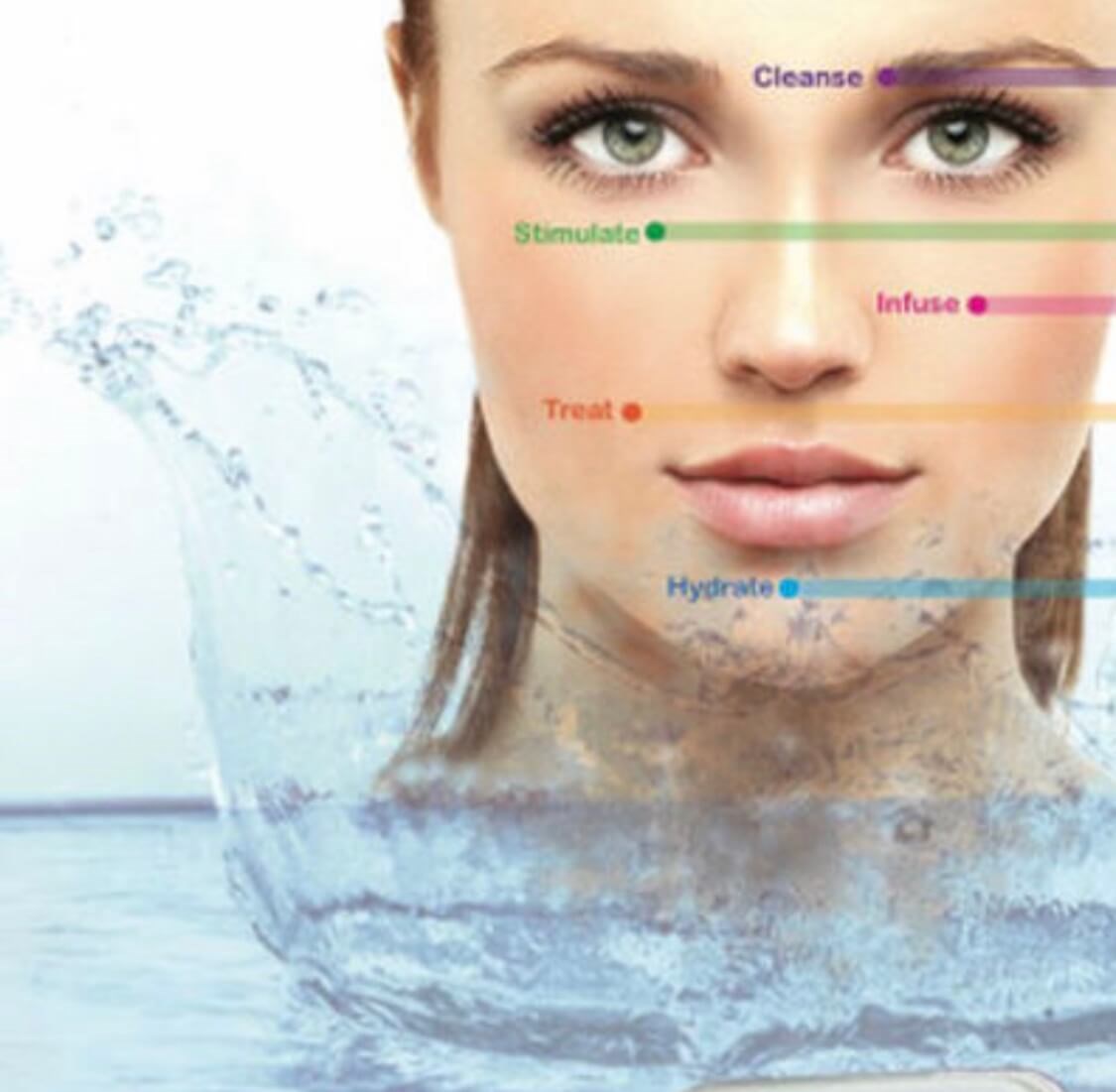 There are three different serums to choose - All serums are made with natural ingredients
*Lighting: hyperpigmentation, dark spots (made with licorice extract)
*Plumping: reducing fine lines and wrinkles (with hyaluronic acid )
* Vitamin C: nourish the skin (made with citrus extract.)
The Only Machine that can perform Light Therapy and Diamond Peels!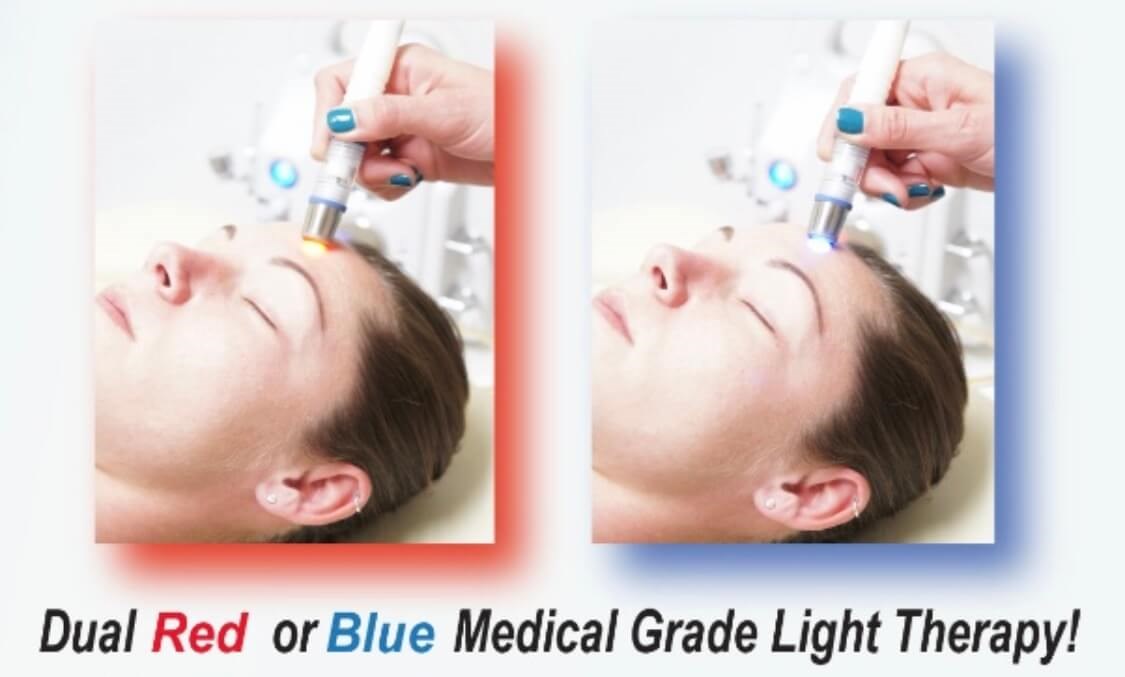 Hydro Facials will be performed in our office in about 30 minutes. The process will begin with a thorough consultation to decide the best options for your facial. After your plan is complete, you may relax in a treatment room as your procedure begins. Hydro Facials include six main steps: cleansing, exfoliation, pore extraction, hydration, adding nourishment, and long-lasting skin protection. These steps are customized to the needs of your skin by selecting the appropriate cleansers, level of exfoliation, moisturizers, serums, and other products. Your Hydro Facial can be customized further with another complementary facial treatment available at our office.
If needed, you can reapply makeup following your Hydro Facial treatment to mask redness before you get back to your day. You will likely notice improvements to your skin right after your procedure with full results developing in several days. To maintain the improvements to your complexion, Dr. Thaker recommends getting these treatments once a month. During your consultation, we can help you schedule future treatments and discuss an at-home skin care routine to nourish your skin in between treatments.
Frequently Asked Questions
What are the results like?
HydraFacials are considered an excellent treatment to include in your routine facial care regimen. While traditional facials are effective, the HydraFacial takes the process one step further by cleaning out your pores and offering a deeper level of cleansing. They can help your skin look and feel softer and brighter. Depending on your skin condition, we can add in additional elements into the facial to help improve many different types of skin irregularities.
Can I combine this with other treatments?
Many of our patients combine their HydraFacial with a number of different treatments, which can be done during the same treatment session. This includes facial fillers, BOTOX, and in an accompanying appointment may also include a laser peel. Combining these skin rejuvenation treatments can provide optimal results.
How often should I have one?
HydraFacials can be performed as often as you feel your skin needs the improvement. Many of our patients schedule their HydraFacials a couple of months apart and supplement with traditional facials in between. During your consultation, we will discuss how often you should get one to maintain the results to desire.
Is it better than a chemical or laser peel?
All of these treatments are effective and serve different purposes. Chemical peels, laser treatments, and medical-grade facials treat a variety of skin irregularities. You can have these treatments at different times of the year to attain great results. The HydraFacial, however, can be performed more often and become a more regular part of your routine, whereas other treatments that may require a bit more downtime may only be done once or twice a year.
With multiple facial treatments and products on the market, it may seem difficult to choose which is best for your skin. The HydraFacial gives you control over the techniques in your facial, adjusting as needed to customize your skin care. At Thaker Cosmetic and Wellness, we strive to provide personalized care to each of our valued clients. This procedure is a perfect example of our dedication to you. If you're ready for your next facial and you want to learn more about the HydraFacial system, contact our office in Las Vegas, NV.
Related Procedures