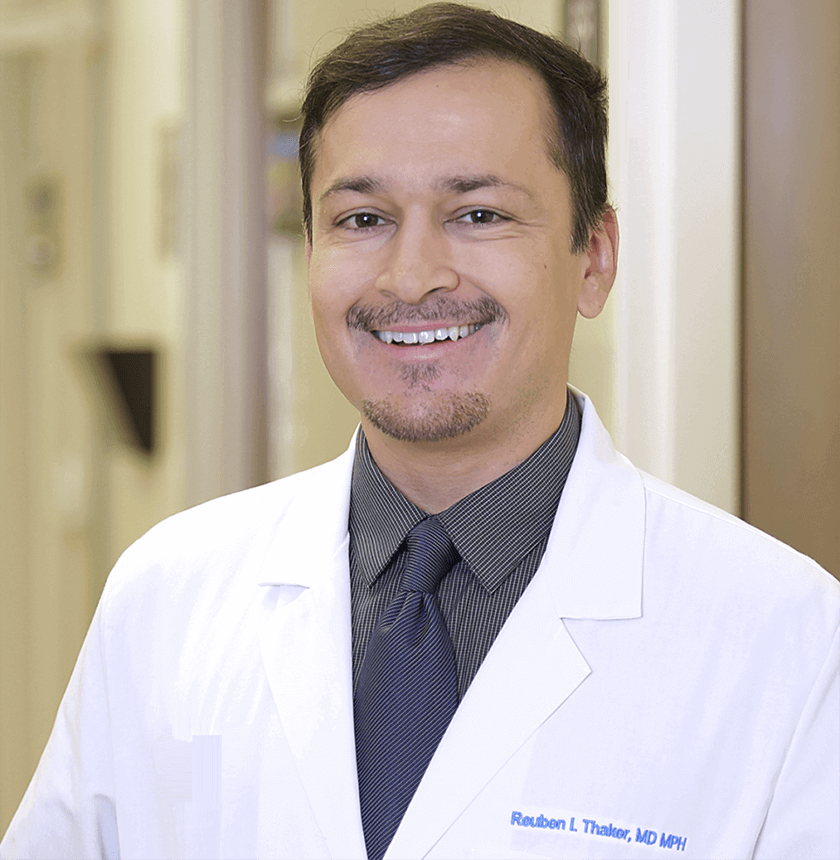 Dr. Reuben Thaker is a cosmetic surgeon who offers innovative aesthetic solutions to patients of greater Las Vegas, NV from his practice Thaker Cosmetic and Wellness, which is located at Phaze Laser Med Spa. Passionate about cosmetic surgery and overall health, Dr. Thaker works to provide each patient with the personalized care they deserve while helping to amplify the natural beauty that is within each of us. Dr. Thaker utilizes a multimodal aesthetic treatment approach, combining many state-of-the-art technologies and advanced techniques to achieve a singular, comprehensive result — overall health and beauty. When Dr. Thaker is not practicing, he enjoys traveling, writing songs, and playing the guitar.
Dr. Reuben Thaker graduated from Vanderbilt University on Full Tuition Academic Honors Scholarship, earning his bachelor's degree magna cum laude in just over two years. Dr. Thaker was then offered Academic Scholarships to multiple medical schools, accepting the prestigious Holt Honors Scholarship to the University of Tennessee. Dr. Thaker subsequently completed five years of surgical training (two General Surgery, three Orthopedic Surgery), a Master of Public Health degree, and a prestigious National Institute of Health Fellowship. After multiple scientific grant awards and teaching duties, and numerous publications, he then completed board certification in family medicine (an ABMS Board). Dr. Thaker was board certified in Surgery by the American Board of Procedural Medicine (non-ABMS) in 2018 and has completed one on one preceptorships with many leaders in Cosmetic Surgery and aesthetic medicine. He is the only surgeon in Nevada with a university training certification in hair transplantation, from the University Hospital of Athens, Greece. In addition to offering cutting edge cosmetic and wellness treatments, Dr. Thaker has taught hundreds of physicians and nurses in courses for aesthetic procedures and regenerative medicine.
Dr. Thaker specializes in multimodal aesthetic treatment, a specialized cosmetic surgery approach that focuses on the use of minimally invasive procedures, and astute attention to health and wellness of the patient, to arrive at a singular, beautiful result. In support of this goal, Dr Thaker has trained with some of the world's foremost cosmetic surgeons in the areas of liposuction, facial surgery, and hair restoration. Dr Thaker has university training certification in hair transplantation from the University Hospital of Athens, Greece. He offers a unique hair transplant technique, that involves implanting each follicle by the doctor's own hand and without traditional incisions.
Dr Thaker additionally has taught hundreds of doctors and nurses from all over the world as a medical education course director in various areas of aesthetics including: facial aesthetics, botox and fillers, PRP for aesthetics and pain management, hair restoration, acne therapies and other areas.
Dr Thaker has created original medical research and published in the surgical literature for over two decades, particularly in the areas of wound healing and the immune system properties of the skin. His research papers have been published and presented all over the world, most recently in 2019 in Budapest, Hungary regarding hair transplantation.
Postgraduate and Professional:
National Institute of Health Fellowship, Washington University Medical Center
Co-author or co-investigator, American Cancer Society grant award
Co-author or co-investigator, Barnes Hospital Foundation grant award
Award and Honorarium,Washington University Annual Scientific Symposium
American Board of Surgery Intraining Exam, multiple 99th percentile scores
Triple Nine Society, top 99.9th percentile IQ philanthropic society
Medical School:
University of TN School of Medicine, Holt Honors Tuition Scholarship, National Alumni Council
National Institute of Health, Research Fellowship Award
Undergraduate:
Vanderbilt University Full Tuition Academic Honors Scholarship, Chancellor's and Dean's Scholarships
Magna cum Laude with Honors in Chemistry
Mortar Board Senior Honor Society, Vanderbilt's most selective honor society, given to only thirty graduates
Vanderbilt Honors Scholar Stipend, Minor in art and architecture, University of London
Citizens' Service Foundation of America Scholarship, merit based award
Professional Associations
Dr. Thaker has participated or held positions in a number of prestigious professional associations. Among the most notable are:
The American Society of Cosmetic Breast Surgery, Member
American Academy of Procedural Medicine, Member
California Academy of Cosmetic Surgery, Fellow
American Medical Spa Association, Member
American Board of Family Medicine, Member
Society of American Gastrointestinal and Endoscopic Surgeons, Member